Trellis House Seafood Stuffing – 8 Servings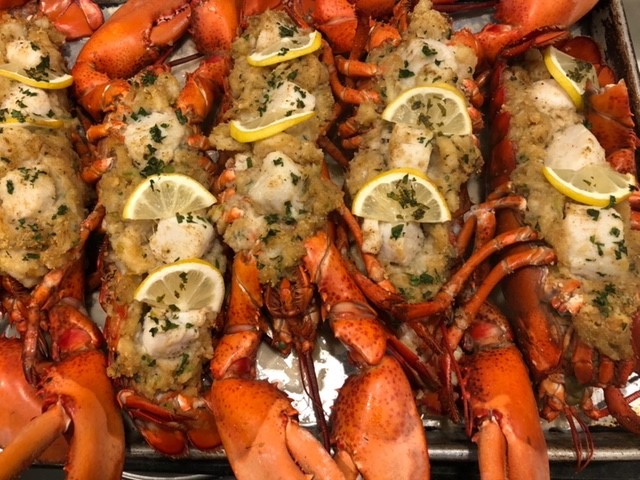 When we go out for lobster dinner there is only one thing I order: a baked stuffed one and half pound lobster, and being me, I am always disappointed in the stuffing. Here is my own ideal version of what stuffing for seafood should be.
4 sleeves ritz crackers
1 stick butter
1 small onion finely chopped
2 celery stalks finely chopped
3/4 to 1 pound peeled and deveined maine shrimp, whole or roughly chopped
3/4 to 1 pound sea scallops, whole or roughly chopped depending on size
3/4 to 1 pound haddock filet
salt and freshly ground black pepper
1 teaspoon worcestershire
1/2 teaspoon dry mustard
2 tablespoons hellman's mayonnaise
1/4 cup minced fresh parsley
lemon slices and paprika

Roughly crush Ritz crackers into a large bowl. Heat 1/2 stick of butter in a large sauté pan and add onions and celery. Cook until translucent and softened. Pour over Ritz crackers. Melt remaining butter in hot pan and add shrimp, scallops and haddock. Cook, stirring intermittently, until seafood is just cooked through. (Haddock will break into small pieces and flake indicating it is done).
Pour seafood mixture and a majority of the liquid (reserving some as needed) over cracker mixture, add Worcestershire, mustard, mayonnaise and parsley and gently stir until combined. Stuffing should be moist and just hold its shape (vs dry and crumbly). Season with salt and pepper and add water or reserved seafood liquid if more moisture is needed. Use stuffing in lobster, fish or baked stuffed shrimp. After stuffing seafood add lemon slices and dust with paprika.